LA YOGA Reviews Spiritual Renegade's Guide to the Good Life
Below is a book review from LA YOGA by Jazmine Green with photos by David Young-Wolff
===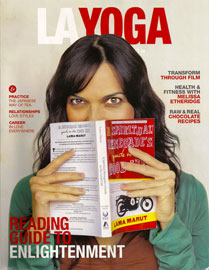 A SPIRITUAL RENEGADE'S GUIDE TO THE GOOD LIFE BY LAMA MARUT
Ordained Buddhist monk Lama Marut wrote A Spiritual Renegade's Guide to the Good Life, with a very clear intention: to teach others how to be happy. Somehow we trust that being a professor of comparative religion (first at Columbia University, then at University of California at Riverside), a former surfer, and a motorcycle enthusiast give his teachings weight; that he's been around the block and knows a thing or two about the triumphs and failings of life and that he can, indeed, shed light on living the good life.
His guide for the spiritual renegade outlines the essential steps necessary to achieving happiness. One of the hardest for most is unilaterally forgiving those involved in your past. Lama Marut points out that, "Holding on to grudges simply perpetuates our own suffering. Instead of letting go and moving on, we repeatedly aggravate these past hurts by dredging them up and re-living them, over and over again." This single action is one that we have complete control over and can -do at any time. Forgiveness directly leads to happiness by allowing you to create a new reality which is entirely separate from the past.
In addition to engaging teachings, Lama Marut's book offers readers a practical road map for finding happiness. It is an action plan for uprooting tendencies that lead us astray and directing our energies towards fulfillment. He concludes his guide with "The Components of a Sane Life," which are daily and weekly steps anyone can take to ensure happiness 2417. Marut's work is more than a compelling read that leaves one inspired to live the good life. It is a resource to be cracked open again and again whenever life relegates happiness to the back burner.