Lama Marut 2018 Worldwide Teaching Schedule
The 2018 Lama Marut / Cindy Lee Teachings
2018 EVENT(S) LISTED BELOW

PRE- "Gimme Shelter" Retreat:

Facebook Live Online Event is Over



Thanks to all who joined us yesterday for our discussion on the false and true sources of real refuge!
If you missed the conversation about Finding Shelter from the Storm, or would even like to listen again:
Here is the link to the recorded event >
The follow are some points from the talk we'd like to highlight from the Facebook Live event:
13:35 minutes – The fundamentals: 'when' do we take refuge, 'from what' and 'in what'? And the distinctions between ordinary, false and real refuge.
24:54 minutes – What would Buddha do? Expanding the view of what we take refuge in to the paragons of human history.
36:53 minutes – Activating refuge in the 3 Jewels triad, to bring yourself through the portal to ultimate refuge
61:00 minutes – Music as an example of ordinary refuge that can inspire a deep experience of real refuge.
We'll be going further and more deeply into these topics in the upcoming retreat: Gimme Shelter! July 26-30 in Cambria CA (More info below).
We hope you'll join us for this unique experience of community, expression, teaching, music and retreat, all in the beautiful setting of Cambria Lodge.
The retreat staff that the Cambria Lodge where the retreat is being held will release the unbooked rooms they have on hold for us by June 25.
Please note we are already almost at capacity. So please visit the Enlightened Experience website to register and claim your room today.
Hope to see you at the retreat!
Marut and Cindy

Piercing The Illusion
Join us for some or all of these four sessions where will explore several of the principal arguments for why our ordinary perception of ourselves and the world is logically impossible.
Gaining wisdom about the true nature of reality need not be overly complicated and having the rug pulled out from our ignorant complacency can be shockingly fun!
When we let go of the impossible, we open ourselves up to the clarity, freedom, and peace that comes from living in truth rather than in illusion.
FOR MORE INFORMATION: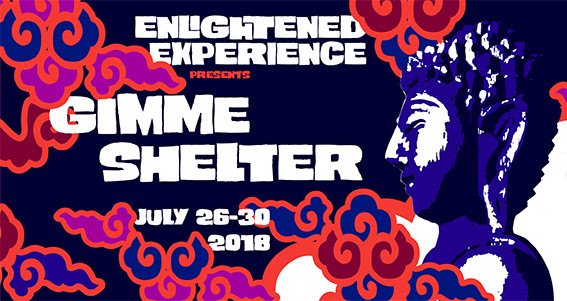 An Invitation from Marut and Cindy
Cambria California – July 26 thru July 30, 2018
Heartfelt thanks to those who joined us for our 2017 Enlightened Experience retreat. We are grateful to all of you for helping to make the retreat one of the highlights of our year and are very happy to write you with some good news…
We're pleased to announce that we will be returning to Cambria Pines Lodge in Cambria, CA for another Enlightened Experience retreat! All are welcome to join us July 26-30, 2018. Although it's seven months away, we encourage you to register now, to ensure your place and get the best selection of rooms at the Lodge.
GIMME SHELTER!
The theme for next summer's retreat is "Gimme Shelter!" For many of us, these are days of turbulence and uncertainty; a time in which it is easy to fall into confusion, despair and a sense of helplessness.
A spiritual shelter can provide reliable protection from these and help us more deeply connect with the strength, clarity, and joy that allows us to navigate difficult times no matter what life throws at us.
Deep Teachings and lots of fun too! What you can expect at the Enlightened Experience Retreat:
Find sanctuary in spiritual teachings and practices based on authentic sources from the Indian and Tibetan traditions
Train in meditation and yoga under expert guidance with advanced teachers
Learn about a whole array of "enlightened activities" that can bring more peace and fun to our lives
Share and discuss in nurturing, small group settings
Revel in the heart-opening uplift of music, song, dance, and other artistic expressions that tap into the bliss of the ever-present sacred sphere.
The enlightened experience retreat only happens once a year and is our only retreat in North America.
JOIN US!
We invite you to come and re-discover the sources of true refuge in the company of like-minded guides and practitioners. Recognize and realize the divine which is all around and within us.
Revive, restore, and renew yourself under ideal physical conditions and in the safety and security community affords.

For prices, rooms and registration for our Second Annual Enlightened Experience 2018 retreat

Save the date for

November 22-25, 2018!

We return to our beloved ashram outside of Daylesford, Victoria.

Lama Marut and Cindy Lee will once again be joined by Andrew Mournehis as we discover the treasure within. More details to come…