Do you want to incite happiness in your life? Then check this out!

"A Spiritual Renegade's Guide to the Good Life is so good I wish I had written it myself!
I recommend this delightful book that should accompany your day to day from now on."
Robert A. F. "Tenzin" Thurman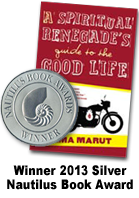 Lama Marut's new book is Now Available!