A Spiritual Renegade's Guide to the Good Life
 By Lama Marut
 With fearless candor and disarming humor, Lama Marut offers the key to creating and sustaining happiness in a modern age.
Now Available at your local bookstore or your favorite online bookseller!
This honest, brave, and yet playful guide offers a practical and achievable—if not radical and revolutionary—blueprint for creating and sustaining happiness in a modern age of con sumerism, self-absorption, and stress.
(Sneak Peek: "The Manifesto" Book Preface – Download Now!)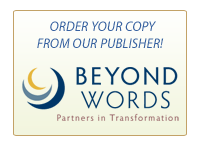 Through a series of meditations, exercises, and useful insights, Lama Marut offers a fresh take on our quest for happiness and the good life. Each chapter ends with an action plan designed to elicit true happiness and forge a clear path toward fulfillment. Microsoft tags throughout the book link to videos in which Lama Marut discusses each step in depth, while you learn to:
transform problems into opportunities;
set yourself free from fear and anxiety;
unburden yourself of past resentment;
create an action plan for true happiness
A Spiritual Renegade's Guide to the Good Life is bound to disrupt your suffering, disturb your dissatisfaction, and elicit a deep-seated contentment. Happiness is in your hands.
"A Spiritual Renegade's Guide to the Good Life is so good I wish I had written it myself! Seriously, you really should try to overcome your fear of bliss and start living the way Lama Marut suggests. I recommend this delightful book that should accompany your day to day from now on."
Robert A. F. "Tenzin" Thurman, Jey Tsong Khapa professor of Buddhist Studies, Columbia University,
cofounder of Tibet House US, and author of Why The Dalai Lama Matters
"Lama Marut is not only giving us information, he's leading us to self-revelation, and his joy in doing so is indescribably fun."
Lindsay Crouse, Academy-Award Nominee
"Lama Marut skillfully and eloquently describes how happiness naturally emerges as a reward of
authentic spiritual practice—a marvelous guide for those choosing to walk on joy's path.
Michael Bernard Beckwith, author of Spiritual Liberation
Review From Publisher's Weekly for Lama Marut's New Book; "A Spiritual Renegade's Guide to the Good Life"
"By no means the first to frame spiritual practice as a form of rebellion, Lama Marut (aka Brian K. Smith) manages a fresh approach based on Asian philosophy, particularly Buddhist principles. An ordained monk trained in the Tibetan tradition and former professor of religious studies, the author argues that happiness is the most important goal in life, but it comes from within, not by depending on external, ephemeral factors such as money and relationships. An important key to happiness is giving to others. Focusing on karma as opposed to the usual Four Noble Truths, Lama Marut applies unusually cogent arguments that individuals can indeed change their relationship to the past and have control over their futures, yet be unable to change the present except for their responses to it. He draws on sources from ancient to modern to illustrate his ideas; he avoids sectarian spirituality as well as New Age clichés. Lama Marut knows how to describe concepts clearly and to make a persuasive case while entertaining his readers. His chapter on forgiveness is a particularly compelling gem of brevity. This provocative, "hip" guide (there's a motorcycle on the cover) doesn't weasel out on the importance of living a "morally pure life" to achieve happiness."
[tentblogger-youtube a9nrct0ZI3I]
Atria Books / Beyond Words
Now Available as of June 5, 2012 ∙ 978-1-58270-373-2 ∙ $16.00 U.S./$18.00 Can. Publicity contact: Jessica Sturges ∙ 503.597.3685 ∙ jessica@beyondword.com
Pre-Order Here> A Spiritual Renegades Guide to the Good Life