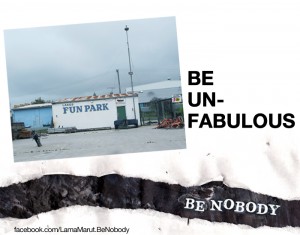 This is an excerpt from the conclusion of a talk I gave at a group retreat we led near Buellton, California, in September of 2013.
I wanted to provide some useful take-aways as people prepared to re-enter their lives after the retreat. And so I picked up on some of the material found toward the end of the Be Nobody book in a section entitled "Be Anonymous – Or At Least Unfabulous" in which I offer some practical tips on little things we can do to whittle away at the ego and its insatiable need to be extraordinary.
The podcast concludes with some reasons why it is important to practice being less of a special Somebody and more ordinary on our way toward ultimately identifying with Nobody and by extension, Everybody.
If we remember the commonalities we share with others rather than emphasizing our differences, we will be far less likely to judge and feel superior to people who are fallible and make mistakes – just like we do.
LISTEN PODCAST HERE >> "Tips on How to Be Less of a Somebody"
To save audio on a MAC: Press Control, Click on the link and select "Save Link As"
To save audio on a PC: Right-click on the link and choose the option to Save