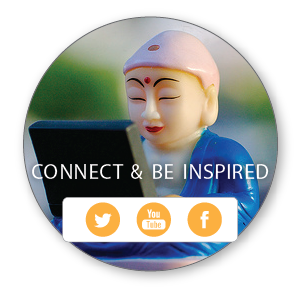 Thank you for looking at the options for staying connected!
As you know, the social media opportunities are pretty boundless these days. Everything is out there from the tried and true old friends such as Twitter, to the latest Generation of Connection via Pinterest.
Because the Social component is such an important element in staying connected these days, we of course must participate. Please do share what you feel would be helpful with and to others and please engage in the dialogue as you are able. And if you feel like helping, please send us an email and let us know how you think you may be able to help… we can always use more hands and eyes and hearts.
Below is a list of our main social outreach efforts:
Our Latest

: Lama Marut's News on Twitter. The account is @marutnews and here you will get the updates about events, teachings, new blog posts, other lineage events and links to inspirational materials posted in other places. You want to stay up to date the easy way with Lama Marut? This is the way! (Please spread the word)
Daily Inspiration (Well almost): This is where Lama Marut sends out his wisdom in short bits to inspire, challenge and transform. A great way to stay mindful and a great addition to any spiritual renegade who is tweeting along the way to enlightenment. The link is @marut on Twitter. Enjoy!
Videos: Great tidbits of footage edited to be on a single topic all pulled from a variety of Lama Marut's teachings from around the world. So if you are chillin' at your computer and have 3 minutes or 5 minutes or even 7 minutes, you can get a nice dose of something that is actually good for your brain! Enjoy! Click here for the "Official" YouTube channel for Lama Marut.
Facebook: It's all about community and friends. Connect here and new doors of opportunity and friends and inspiration will open for you. Through Lama Marut's Facebook page you will not only get smatterings of delicious pearls of wisdom filtering through, you will also learn about lots of other events and teachings not only in the USA but also overseas. And not just with Lama Marut but also his ACI Centers and other teaching events and retreats. Definitely a "must do" for any Facebook participant. Visit our Facebook page here >
Eblasts: Want this info sent to you inbox? Great! Sign up for our newsletter which keeps you updated on all things Marut. Enjoy! Just Sign-Up over in the sidebar widget >
Pinterest: Though we are not here yet with an official presence, this was brought to our attention by David Simmons of Diamond Heart Dharma. Check it out and see if this social channel is something you may like and if you see something you like on our social streams that you want to share, please do! Here's a link to the Pinterest.com home page >