This podcast comes from a talk given on a hot, sultry night in Brooklyn last summer at Ava Gerber's Lucky Lotus Yoga Studio. It really cuts to the chase when it comes to the Big Question: Who the hell am I? When we go looking for the self we thoroughly believe exists – an unchanging, unitary, independent, commander of body and mind entity – it's like trying to find Waldo, the little dude with the spectacles and the red and […]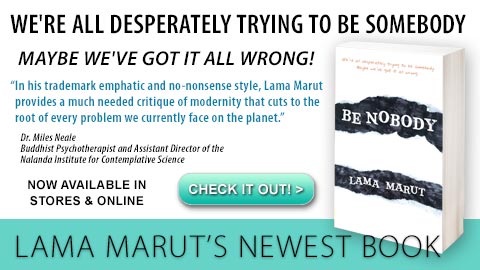 Check out the all the new info about the new Be Nobody book here >

Join Lama Marut in for his 2014-2015 NEW BOOK & Teaching Tour! See Marut's schedule page for more info >

Watch the video with Lama Marut interviewing Lama Surya Das for Awakening Journal (MP3 & transcript avail too).
Melbourne: "Breaking the Chains: A Workshop On Freedom." March 15-17, 2013 With Lama Marut and Cindy Lee. Join Lama Marut and Cindy Lee in this workshop that will focus on an analysis of the "12 links of dependent origination," using a chapter from Nagarjuna's "Root Verses on the Middle Way" as the foundational text. MELBOURNE: March 15-17, 2013 Location: Flavours of Yoga 2A Barkly Avenue, Armadale, 3143 (just off Glenferrie Road – upstairs – big red door and sign) Contact: Maree Fowler – chickens(AT)bigpond.net.au […]

Quality #3: Patience ~ Patience, like kindness, is a quality that characterizes the spiritual life from beginning to end. But it too takes on different nuances as one gets some years under one's belt and begins settling in for the long run. Patience, as the direct antidote to anger, is a crucial part of a practitioner's foundational efforts to gain control over the worst manifestations of the mental afflictions. Anger is particularly harmful and hard to restrain. It consists of the intention to hurt another […]

At the end of his modern spiritual classic, A Path With Heart, Jack Kornfield reviews ten qualities that he thinks characterize someone who has "come of age" in their spiritual life. The ten traits Kornfield identifies have inspired me to write down some of my own thoughts about each of them. Quality #1: Nonidealism When we first come to a spiritual life – battered and traumatized by a life without moorings or guidance, desperate for some solace and peace of […]
This is the video for the 9 Session Online Teachings in April and May 2012.