Melbourne: "Breaking the Chains: A Workshop On Freedom."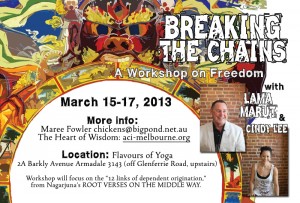 March 15-17, 2013
With Lama Marut and Cindy Lee.
Join Lama Marut and Cindy Lee in this workshop that will focus on an analysis of the "12 links of dependent origination," using a chapter from Nagarjuna's "Root Verses on the Middle Way" as the foundational text.
MELBOURNE: March 15-17, 2013
Location: Flavours of Yoga
2A Barkly Avenue, Armadale, 3143
(just off Glenferrie Road – upstairs – big red door and sign)
Contact: Maree Fowler – chickens(AT)bigpond.net.au
Times:
Friday, March 15: 7:00-9:00pm
Saturday, March 16: 1:00-3:00pm & 4:00-6:00pm
Sunday, March 17: 1:00-3:00pm
Cost:
Full Workshop: $100  |  Drop-ins: $30
REGISTER FOR THE FULL WORKSHOP VIA PAYPAL HERE!
Drop-ins can pay at the door (but cash-only, please)