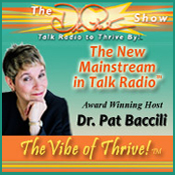 Show was recorded on Wednesday, September 26, 2012
Host: Dr. Pat Baccili
Guest: Lama Marut
Stations: BBSRadio.com, WBLQ, Transformation_Talk_Radio
Overview: A Spiritual Renegade's Guide to the Good Life with Lama Marut
For Buddhists and non-Buddhists alike, A Spiritual Renegade's Guide to the Good Life, Lama Marut voices the next generation of spiritualism by addressing today's need for fearless honesty, practicality, and simplicity, and offering meditations and action plans designed to incite true, unpackaged happiness.
===
Dr. Pat Baccili is an internationally recognized expert in the human potential field who makes a positive difference helping others realize their dreams. To Pat, there is no such thing as failure. There are simply people, places and things that are placed in our paths to help us understand our true nature and what we are meant to do in this lifetime.
In her various roles in the human potential field as coach, teacher, adviser, inspirational speaker, consultant, and internationally acclaimed radio personality Dr, Pat has helped thousands of people dramatically change both their professional and personal lives. She has helped them confront the long-held beliefs that have held them back, see themselves as Crust-Free, and realize that nothing stands in the way of successfully achieving their heartís desires.
Learn more about Dr. Pat at www.thedrpatshow.com